First carob processing machine and mill in Terres de l'Ebre (The Ebre Lands)
Thanks to this project we are building the first carob processing machine and mill in Terres de l'Ebre to participate in a sustainable ecological agricultural production that favors soil fertility and biodiversity, mainly carobs, nuts, olive oil, forestry, fruits, vegetable garden and derived foods dignifying farming. We are restoring a Carob processing machine from 1940 manufactured by Salvador Baldrich, born in Reus.
It is the necessary machinery to be able to cover the entire transformation process of the carob, specifically, the part of cleaning, crushing and obtaining the carob seed and the pulp, which is the raw material to obtain the 1st fully organic carob flour produced in Catalonia. During the rehabilitation process, a digital scan of the parts will be done to make a model that allows one to replicate the machine. Modern machinery is very expensive; by recovering this machine that is over 80 years old we recover the rural, industrial and agri-food history of Catalonia. 
We will also have a solar dryer, an anti-hardening mill and an electronic bagger to be able to offer you the 1st organic carob flour in Catalonia! 
 
Dried in the sun and by the sea... quality and proximity thanks to Molí del Mar (Sea Mill)
                   Flow diagram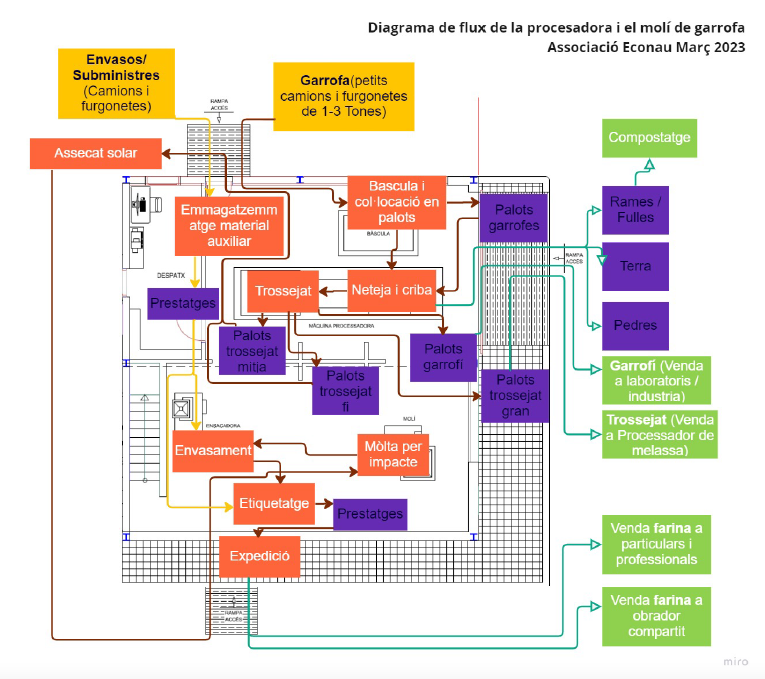 The space 
Another area of ​​100m2 with a loft of 35m2, these facilities are sufficient to install the carob crusher, the mill and the bagger and allow the movement of a tractor to stack the carob and carry out the movements of bales and pallets necessary for the processing of carob and nuts. It also has an office that will connect to the workshop and a dry bathroom outside. 
How does it work? 
The carobs collected at different collection points enter the reception where they are valued and weighed. Then they go to the processing area where the carob is separated and the pulp of the carob is cut into 3 sizes. Part of the cut is sold to the molasses processor, and another part goes to the lot area to obtain our flour! The flour will go through packaging and labelling and will be ready for shipment!